Ardbeg Presents Monsters of Smoke Tour in Raleigh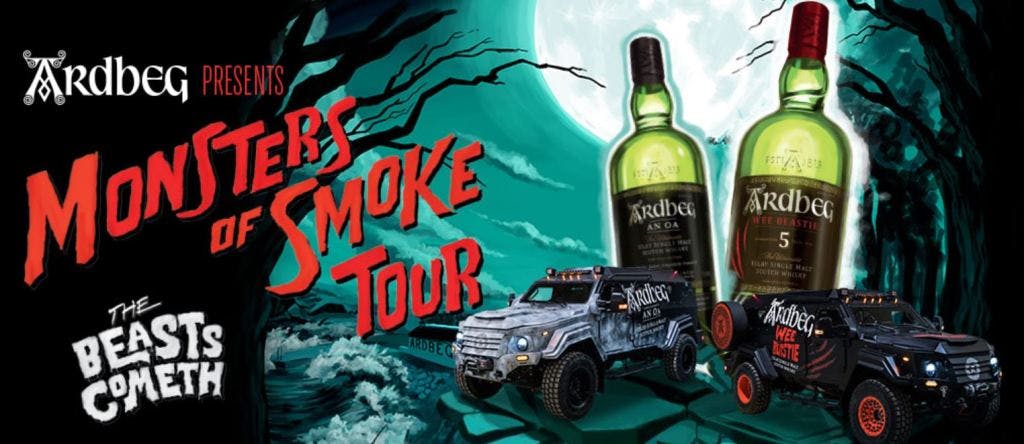 Join us at Dram & Draught Raleigh on November 14, 2021, from 1 p.m. until 4 p.m. for Ardbeg Presents Monsters of Smoke Tour! Enjoy tastings, surprises, giveaways, augmented reality photo opportunities, and an oversized, all-terrain tactical vehicle appropriately named "An Oa".
The featured cocktail during the event will be an Ardbeg Ten Year Crime Pays (Ardbeg 10, Green Chartreuse, Overproof Rum, Lime, Honey) and an Ardbeg flight with Wee Beastie, AN OA, and Ardbeg Ten Years Old.
Whether or not you are a fan of peated malts, this experiential tour presented by Ardbeg will be fun and interactive! This is the perfect opportunity for whisky, spirits, and cocktail enthusiasts to experience a whisky with over 200 years of history. Attendees must be 21 or older to participate.
About Ardbeg
Ardbeg has been called "as close to perfection as makes no difference," by whisky connoisseurs. Proof then, that Ardbeg truly deserves its incredible reputation. It's a whisky that's worshipped around the world and has been named 'World Whisky of the Year' no less than four times out of the last seven years…
Ardbeg was recognized as Distillery of the Year at the International Whisky Competition in 2018, 2019, and 2020. A lot goes into finding the perfect balance of flavor that is Ardbeg, and it all begins at our home along the southern coast of Islay, since 1815.