Christmas Cocktails & Spirit-Free Drinks for Your Holiday Parties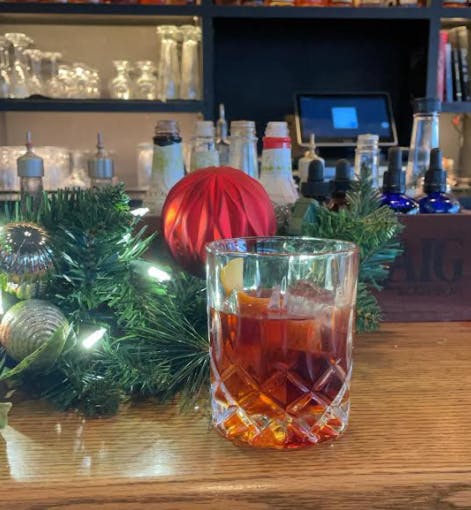 Dram & Draught owner Kevin Barrett took some time to shine on television on My Carolina CBS 17. They are getting everyone ready for hosting festive holiday parties! The segment features a fun signature cocktail or spirit-free drink. Take a look at the segment below!
Left-Hand Cocktail
Liberal dashes of Chocolate bitters
1 oz. Sweet Vermouth
3/4 oz. Campari
1 oz. Bourbon or Rye whiskey
Add all ingredients to a mixing glass
Fill with ice and stir until glass is frosted
Strain into a rocks glass over fresh ice
Garnish with orange zest and enjoy!
Spirit-Free Golden Ticket
Liberal dashes of coffee & cocoa bitters
1 oz. lemon Juice
3/4 oz. 1/1 Simple Syrup
1 oz. Aquafaba
Club Soda
Add bitters, lemon juice, simple syrup, and aquafaba into a shaker tin
Shake without ice
Add ice to shaker tin and shake until the tin is frosted
Pour through a strainer into chilled glass
Top with club soda and enjoy!
About My Carolina
My Carolina is a local lifestyle show, hosted by Joanna Heims and Carly Bragg. The two highlight the latest and greatest things happening across the triangle–from food and businesses to everything in between! Check it all out on CBS17 weekdays at 1:00 p.m.
Related